Social Media Marketing Strategy
Strengthen your social media presence
Social media can be a powerful tool for lead generation when integrated into a comprehensive digital marketing strategy.
Understanding your target audience is crucial for creating effective social media posts. By identifying your target audience's demographics, interests, and pain points, you can create social media content that resonates with them and is more likely to help in lead generation.
Creating valuable and relevant content that educates and entertains your audience is key to building trust, having a social media presence, and lead generation. This can include blog posts, e-books, infographics, and videos that address the needs and interests of your target audience.
On your social networks, include clear calls-to-action in your social media posts, such as "Download our e-book" or "Sign up for our webinar," to encourage engagement and lead generation.
Make sure your social media accounts are complete, professional, and updated regularly. Also, include links to your website or landing pages on your social networks where leads can learn more about your products or services and provide their contact information.
Paid social media advertising can be effective for reaching a larger audience and generating leads. Consider using media management services such as Facebook and LinkedIn ads to target your ideal audience and increase the visibility of your content and calls to action.
Drive higher ROI from your campaigns!
Social Media Driven Solutions
Developing a Social Media Process
Developing a social media process involves creating a comprehensive plan that outlines your social media marketing goals, strategies, and specific actions. This plan serves as a framework for decision-making regarding the use and timing of different social media networks, especially useful for businesses starting with social media or looking to revamp their strategy
1
Content Calendar and Consistency
Establishing a content calendar ensures consistent and timely posting across social networks. A well-thought-out schedule not only maintains audience engagement but also aids in lead generation. We emphasize the creation of a social media content calendar that aligns with your business goals and resonates with your audience's interests. Consistency in posting is pivotal in nurturing a community and fostering trust, essential elements in converting social media presence into viable leads.
2
Analyzing Data and Iterative Improvements
Data analysis plays a pivotal role in refining your social media marketing strategy. We employ analytics tools to assess various metrics like reach, engagement, click-through rates, and conversion rates. Understanding these metrics helps in identifying successful content types, optimal posting times, and audience preferences. We leverage this data to make iterative improvements to your social media presence, ensuring continual growth and enhanced lead generation over time.
3
Video Content and Live Streaming
Video content has emerged as a dominant force in social media marketing service. It has proven to be highly engaging and effective in capturing audience's attention. Incorporating video content, including live streaming sessions, enables a more dynamic interaction with your audience. We specialize in crafting compelling video strategies tailored to your brand, fostering a deeper connection with your audience, and facilitating lead generation through visually engaging and informative content.
4
Storytelling and Brand Narrative
Building a brand narrative through storytelling is a powerful method to engage and convert audiences. We help shape your brand's story, ensuring it resonates with your target audience. Crafting compelling narratives through social media posts, highlighting your brand's values, successes, and customer stories, strengthens emotional connections, fostering trust and loyalty among your social networks followers. A well-crafted brand narrative significantly contributes to lead generation by creating relatable and memorable experiences for your audience.
5
Emerging Trends and Platform Innovation
Staying updated with evolving social media trends and platform innovations is crucial. We continuously research and adapt to emerging trends, harnessing new platform features to optimize your social media marketing strategy. From exploring the potential of new platforms to leveraging the latest features on established ones, we ensure your brand remains at the forefront of innovation, maximizing opportunities for lead generation and audience engagement.
6
Global Reach and Localization Strategies
For businesses aiming for a global audience, employing localization strategies in social media marketing is pivotal. As a marketing agency, we specialize in tailoring content to diverse demographics and cultural nuances, ensuring that your brand message resonates authentically across different regions. Our expertise in localization strategies ensures effective communication, widening your reach and attracting leads from diverse cultural backgrounds.
7
Performance Reporting and Strategy Refinement
Regular performance reports provide comprehensive insights into the effectiveness of your social media posts. We generate detailed reports highlighting key metrics, campaign successes, and areas for improvement. Our social media teams collaborate with you to refine strategies based on these insights, ensuring ongoing optimization for improved lead generation and overall campaign success.
Process
Our Services
Social media management services can be beneficial for businesses of all sizes looking to reach and engage with a wider audience and generate leads. By hiring a social media management agency, businesses can improve their visibility, build brand awareness, and increase their customer base. This is how we can help you:
1
Social Media Marketing Strategy Development
We help businesses to create a comprehensive plan for using social networks to achieve their marketing goals, including lead generation.
2
Social Media Content Creation and Management
As a marketing agency, we provide services that include creating and scheduling social media posts, managing social media accounts, and analyzing and reporting on social media content performance.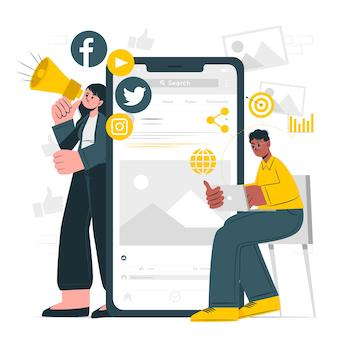 3
Social Media Advertising
As a leading digital marketing agency, we help businesses create and manage paid advertising campaigns on social media platforms, such as Facebook and Instagram ads, to reach a larger audience and generate leads.
4
Influencer Marketing
We also provide services that help businesses to collaborate with social media influencers to promote their products or services to a wider audience.
5
Social Listening and Reputation Management
By making use of the best social media management tools, we provide services that help businesses to monitor and respond to customer reviews and feedback on social media platforms, and manage their online reputation.
6
Community Management
Services that help businesses to engage with their customers and followers on social networks, including answering questions and providing customer support.